Randomness
- I'm a little late on this, but there are a few minutes of Veterans' Day left, in case anyone needs a reminder. There's really not much to say, but I'd like to extend my thanks to all past, present, and future members of the U.S. armed forces for doing quite possibly the most difficult job there is and prevailing. If it weren't for you, who knows whether I'd even have the freedom to write this post?
And remember: Quite a few veterans of the War on Terror have blogs you should check out.
- This weekend is SU's homecoming. For most college students, that means extra festivities, hanging out with alumni, more school spirit, and other generally positive things. For us marching band members, on the other hand, homecoming weekend is pure evil. Imagine marching over a mile (which takes about 45 minutes because of the frequent starts and stops)...at night...with the temperature hovering around 40 degrees...while carrying and playing a snare drum that somehow got screwed up in Pittsburgh and doesn't quite sit right on your shoulders, so every step you take is like having your entire spine compressed in an accordion-like fashion.
Go ahead, ask me how I spent my Friday night.
Anyway, the fun didn't stop there. After the parade, we had to stand outside for...I don't even remember how long...while various members of the community made a pathetic attempt at a pep rally. A few highlights: The president of the University Union led the rally for some reason, and he has apparently decided that the name of our team begins with an H. Thus: "Let's go Horange!"
Yeah, we were just as confused as you probably are.
Next, the judges who were watching the parade gave out awards to student groups for demonstrating school spirit, making banners, etc. As a result, I have concluded that screaming in unison is the only method of celebration that sorority girls are familiar with. Holy crap, I can still hear it now...the horror...the horror...
Oh, and by the way, the band, which clearly has the most spirit because we MARCHED A FUCKING MILE WHILE PLAYING THE FIGHT SONG, was awarded with...a "round of applause" that was pretty much a golf clap on steroids. Yay. Ungrateful bastards.
Finally, the coach of the football team, who should be ashamed to show his face in public (if you don't know, Syracuse has just about the worst team in the NCAA), took the stage and tried to get the crowd going. His words of inspiration:
"Tomorrow, we're going to WIN A GAME IN THE BIG EAST CONFERENCE!!!"
You know your team sucks when simply winning a game becomes the Holy Grail of your season. On the plus side, the coach's unintentionally hilarious statement did inspire something: parody. A comment I heard from another drumline guy seconds later: "Tomorrow, the team's gonna get a first down!!!" A few of us also compared the coach to Howard Dean, and the drumline erupted in impressions of the infamous "YEEEAAAAAGH!!!!" Bwahahaha.
...I'm so glad tomorrow is the last game of the year. Seriously.
- Finally, open the extended entry (or just scroll down, if you're already there) to see the SU Drumline t-shirt for this year, inspired by our Earth, Wind, and Fire show: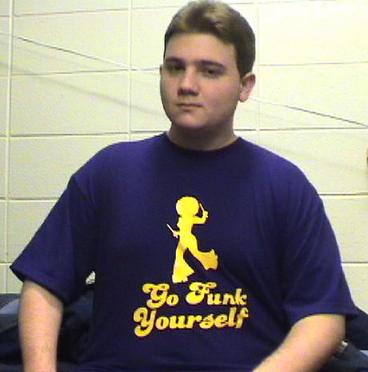 Heh. I'm using this as my Facebook picture right now.
All right, I have marching band rehearsal in 8 hours, so...later.
Posted by CD on November 11, 2005 11:42 PM | TrackBack
Category: College | Random Thoughts