Semi-Random Updates (read the whole post for vital info!)
Hey, minions. I just went a week without posting, didn't I? It happens. However, I finally have some free time, and I wanted to detail a few of the things that are happening in CD World right now.
First of all, in case you missed it, I am back at Syracuse. A lot has happened in the last couple weeks. I went through what was probably the worst band camp ever (long story), took my first week of classes as a junior, and performed at the football game this afternoon, among other things. I've been busy.
A bit of good news: As I've mentioned in the past, I finally managed to get my own dorm room this year, and let me tell you, having a single is friggin' awesome. In addition, I'm in a different building now, and The Chimps are nowhere to be found. The people on this floor are actually the quietest I've ever lived with. There are a few noisemakers (for example, the guy in the room next to me, who I refer to as "Captain Loudness" because he talks on the phone so loudly that I can hear him through the wall), but compared to the mind-numbing cacophony that I was forced to endure for two semesters, this is the freakin' Promised Land.
Another note about the room: The view from here is amazing! I'm on the sixth floor of my building, and the placement of my room provides...well...see for yourself: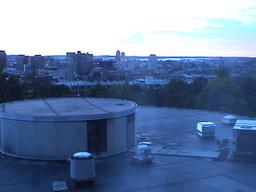 (Click for full size)
That picture (taken with a camcorder at about 7:30 PM) doesn't do the real panoramic view justice. I'll try to take a better shot when we get a sunny afternoon and I'm actually home to see it.
Just for reference, compare that to the view I had out my window last year.
My classes are pretty good too, as far as I can tell from one week. The real highlight is TRF 411: Dramatic Writing for Television and Film. I want to be a screenwriter, and I'm finally taking a screenwriting class. It is from 8:00-9:20 AM two days a week (stupid schedule), but other than that, I think I'm going to like it. More on that later in the post...
On a totally different note, I'm still looking for more reviews of the Suspended Agitation demo. If you get a chance to listen, please let me know what you think. And yes, I know the singing sucks. That's why we're looking for a lead singer, people.
Now, here's the part that everyone cares about: What is the future of Semi-Intelligent Thoughts? Allow me to explain the dilemma I've had...
On one hand, I know that there are people who enjoy my blogging, and I don't want to disappoint you. In addition, I like doing this, and the thought that I've had this blog for almost two years almost makes me want to keep at it forever.
However (cue disappointed moans and groans), I really don't know how much longer I can keep it up. My schoolwork this semester is going to be insane, and I don't know if it would be in my best interests to try and blog at the rate I used to in the Good Old Days (when I first started, I could crank out 3-5 posts per day with ease).
Also, it's hard to admit this, but I don't know if I have that much more to say. Ever since the election, it seems like every political issue that comes up results in the same arguments happening over and over without any real progress. To tell you the truth, I haven't been that concerned with writing about politics since November 3, 2004. I'm still interested (and strongly opinionated), but I just don't feel that sense of duty or urgency to write about every issue anymore. After Election Day, something just changed. I'm sure you've noticed in the last 9 months.
But (cue anticipatory gasps and silence) I don't want to stop blogging completely. I am a writer by nature, and I need to write. If I called it quits, I'd be back within a week. The main reason I took that hiatus over the summer was to see what would happen if I just stopped posting, and to my surprise, all or most of you stuck around and waited for me to come back.
Thanks for that, by the way.
So it comes down to this: I'm still going to blog, but it's not going to be on a regular schedule, and it's not going to be as intensely political as it used to be. Semi-Intelligent Thoughts will be my place to write whatever I want to write, whether it be personal, political, musical, or a mix of those or any other elements. I know it's kinda been like that for a while, but I've hesitated to post things in the past because of the political history of the blog.
For the last few months, I've been telling myself that I'm just taking a break, and that I'll return to full-time political blogging one of these days. Now, I realize that I was just pretending to be someone else, and I'm finally ready to accept the change honestly. If you are too, feel free to stick around, but just keep in mind that this will no longer be considered a political blog, even if I do end up posting about politics fairly often. I still want to rant occasionally, but I've decided that I should stop focusing so much on liberals and just lash out against stupidity in all its forms. Again, I've done this in the past, but I've never really accepted the fact that I'm allowed to rant from a totally non-political angle.
If you just stuck around because you expected me, sooner or later, to revert back to my old routine of frequent tirades against liberal idiocy, then I'll understand if you don't want to read anymore. But I don't think that applies to most of you.
So, to summarize: SIT is still going to continue, but I'm no longer going to pretend that it exists mainly for political rants. I'll probably still write about politics, but nothing is off limits now, and I'll most likely cover some subjects I haven't really touched on before. Just keep in mind that I'll be busy, so I don't know how frequent posting is going to be.
Now, to go out on a more positive note, I thought I'd share an idea. The screenwriting class I'm taking offers two options for the main focus of the coursework: A 15 page short film script, or a full-length screenplay. I've decided to go for the so-called "long option" (after all, I've written two screenplays on my own), and I have to have an idea ready for Tuesday. I was thinking of doing something like this (initiate "Hollywood pitch" mode):
The story is like a cross between Network and Lord of the Flies. It details the struggle between two small town news networks competing for ratings. When regular sensationalism gets old, they start manufacturing news stories, and when that gets old, the reporters and anchors begin airing personal attacks on one another. Eventually, two reporters (one from each network) realize what's going on and join forces to create a new channel dedicated to telling the truth. Meanwhile, the employees of the big networks have begun attacking each other physically, and it just escalates from there.
This would be a heavy-handed satire, first of the media culture, then of the human tendency to demonize one's opponents and sincerely believe it. For example, one character would be like Howard Dean ("I hate Channel 6 and everything they stand for!"). I haven't worked out all the details yet, but I think it would be fun to write.
Your thoughts?