It Had to Happen Sometime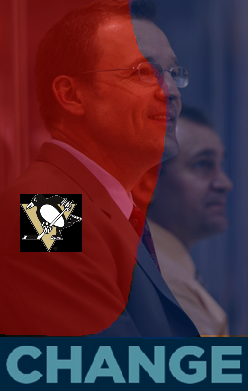 Dan Bylsma Named Interim Head Coach of Pittsburgh Penguins

Dan Bylsma has been named interim head coach of the Pittsburgh Penguins, replacing Michel Therrien, it was announced tonight by Executive Vice President and General Manager Ray Shero.

Bylsma, 38, has been serving as head coach of the teamís American Hockey League affiliate in Wilkes-Barre/Scranton. He will coach his first game with the Penguins Monday at 2 p.m. against the New York Islanders at Nassau Coliseum.

Therrien was relieved of his duties this evening, and assistant coach Andre Savard was reassigned within the organization.
Either Therrien changed something he was doing, or the players were tuning him out. Whatever the case may be, the team wasn't playing well under him anymore, and Bylsma has been a beast in Wilkes-Barre. I'm just wondering why Mike "power plays consist of making pretty passes for two minutes" Yeo is still around.
The next couple weeks will be interesting...
Posted by CD on February 15, 2009 10:43 PM | TrackBack
Category: Hockey