Morning in New York
Another picture for your enjoyment: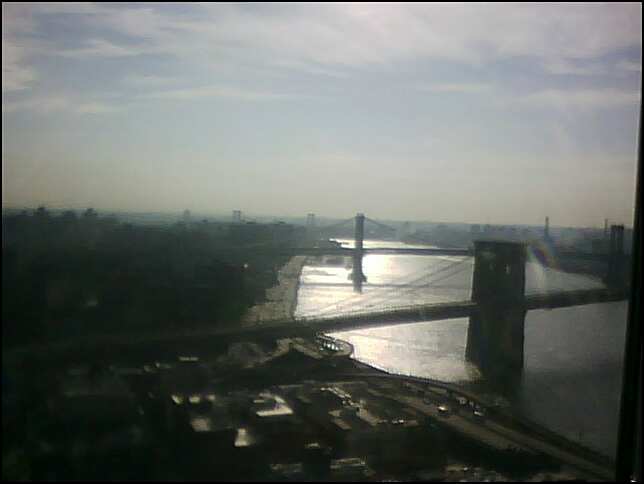 Fun fact: I went back to sleep for another five hours after I took that picture.
Another fun fact: I didn't have to get out of bed in order to take it. That's a really interesting view to wake up to when you have a paralyzing fear of heights.
Also, I'm pretty sure my new roommate thinks I'm the world's biggest douche for staying up so late last night while knowing that he had to get up at 6:15. On the other hand, he left the blinds open, which caused me to wake up multiple times, so maybe we're even.
Also, it's almost 2:00, and my other suitemates are either gone or still asleep, so maybe my schedule is the norm now. Or not.
Wasn't I supposed to be making progress or something? This is surreal.*
Yet another fun fact: All three of the people living with me have first names that begin with B. I almost feel like my being assigned here with an exotic first initial like "C" was some sort of affirmative action initiative.
Oh, well. Time to get back to emailing the production coordinator at my internship in an attempt to figure out how the hell I'm going to get there tomorrow morning. Apparently, most of them take the subway and then walk the rest of the way. It's a good thing I've been exercising.
*Warning: Authors in post may be more optimistic than they appear.